be the spark, shine on!
With toothsi spark, an at-home teeth whitening kit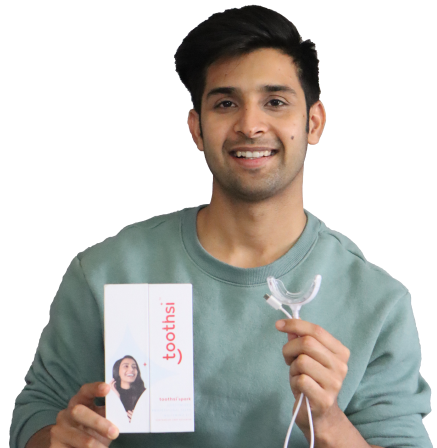 ABOUT
toothsi spark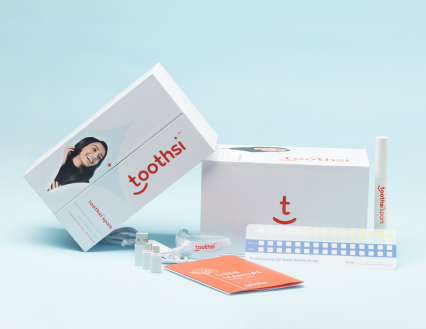 professional at-home teeth whitening kit
Wish to brighten your smile from the comfort of your home? Well, you're in luck. Presenting toothsi spark; an at home teeth whitening kit. The application is as easy as 1-2-3.
What's different about toothsi spark?
Unlike other whitening kits, toothsi spark is easy to use and gives you quick results. It contains an LED light activator which adopts a special cold light technology. The blue rays react with the teeth whitening gel and make the stains disappear. All that you're left with is whiter and brighter teeth.
what's in the kit?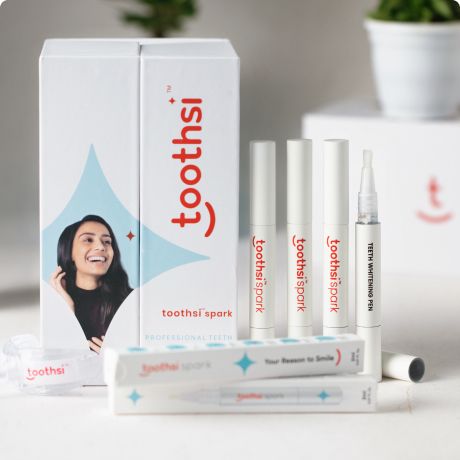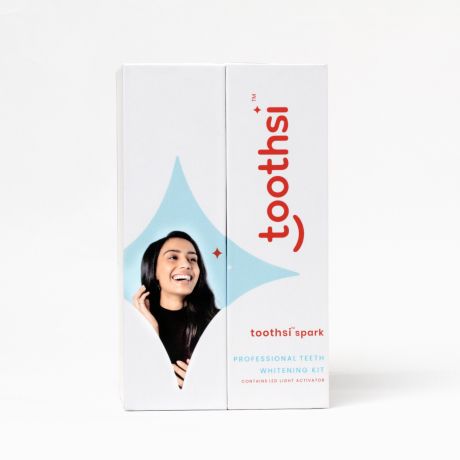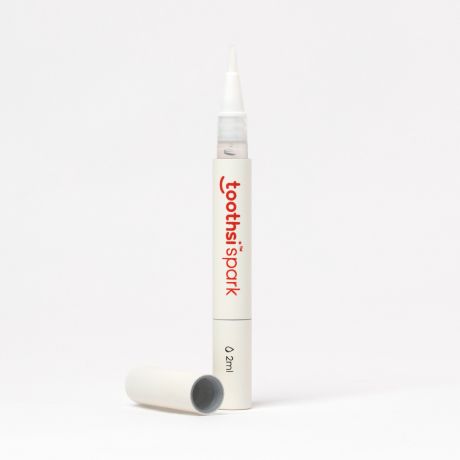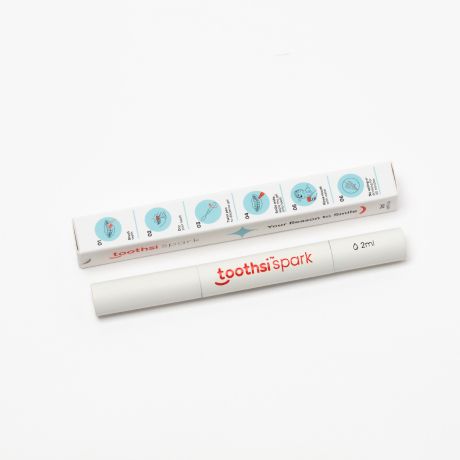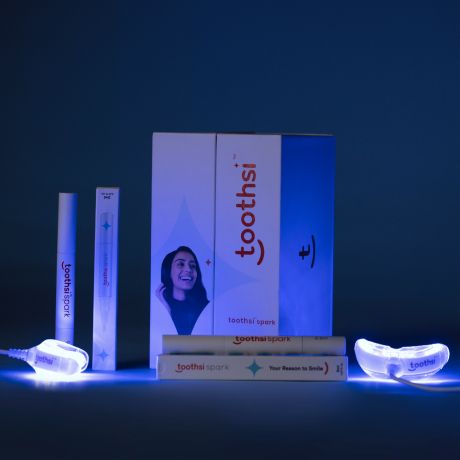 Teeth whitening pens: 3
UV LED Light: 1
Adapter for iPhone, Type-C, USB: 1
User Manual: 1
PVC Shade Guide: 1
HOW TO USE
get set go!
01. APPLY THE WHITENING PEN TO YOUR TEETH!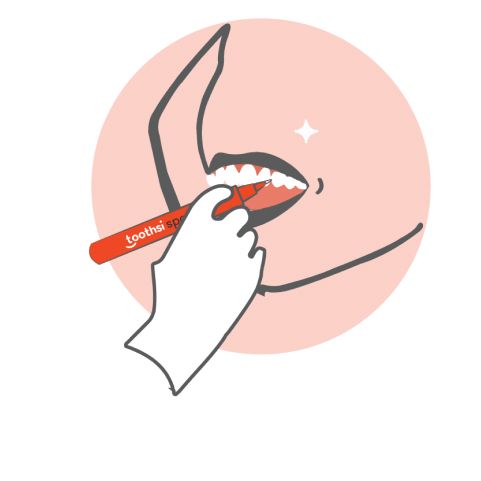 Rinse your mouth with water. Shake the whitening pen before use. Next, apply a thin layer of the whitening gel onto the teeth while avoiding lips and gums. Cover all areas of the teeth. Wait for 30 minutes.
02. PUT THE LED LIGHT TRAY OVER YOUR TEETH.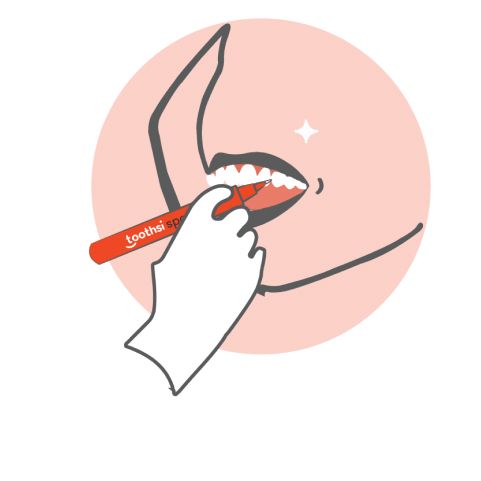 START
your toothsi spark journey
1
order
Order your toothsi spark kit, and start the countdown as it reaches you!
2
unbox
Once received, go through the user manual in detail and get ready to use it!
3
shine
Start using it and find visible differences, starting in just a week. Get ready for the compliments!
WHY
toothsi spark?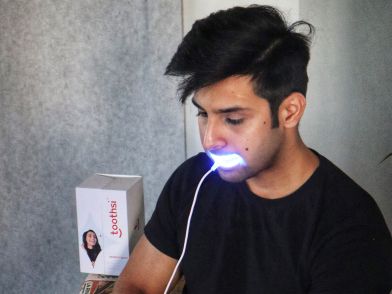 Works from your home
All you have to do is order it, unbox it, and shine!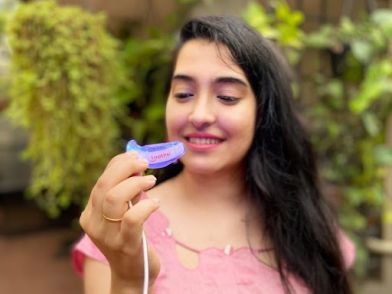 super easy to use
Simple application with easy steps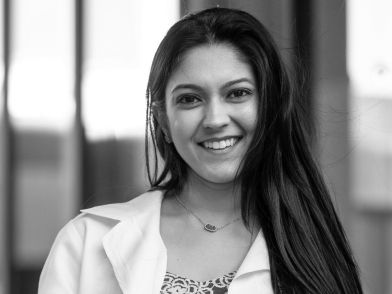 expert involved
Our experts will solve all your whitening queries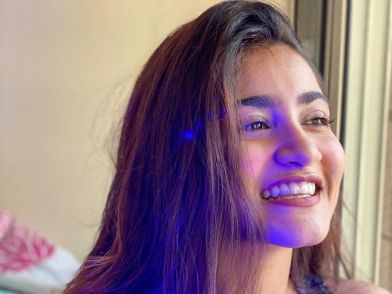 It's safe
Dentists approved, safe for your enamel and works with low or no sensitivity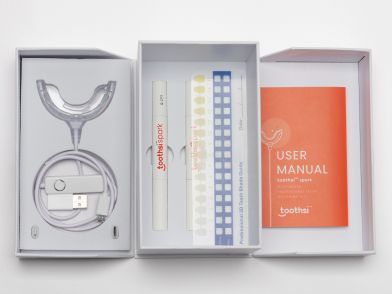 Lasts long
A single kit gives you a brighter smile for upto 6 months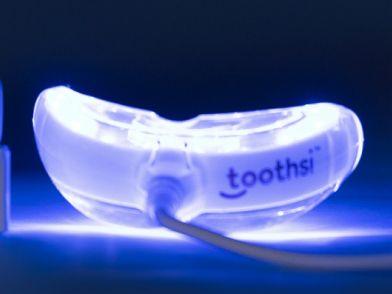 UV LED light
Latest technology accelerates the whitening process
faqs
01. How easy is it to whiten my teeth?
You can use toothsi spark and whiten your teeth up to 5-9 times brighter anywhere, any time! Psst: we've been told binge watching is an all-time favourite time to do it.
02. Is it very expensive?
03. Will it harm my teeth?
04. How long will I need to use toothsi spark before I can see my teeth brighter?
shiny stories
I was always uncomfortable while smiling in pictures, because I always felt that my teeth looked slightly yellow. Then I heard about spark and decided to try this because it was cheaper and easy to do. I am very happy now.
Mehtab Singh, 24
I am an upcoming model and good teeth and a bright smile means a lot to me. While my teeth were good, the colour of my teeth wasn't good enough. My brother told me about toothsi spark and I can see such a huge difference!
Ayesha S, 23
I love toothsi spark! The whole experience was very smooth and I like literally sit with the device in my mouth when I am watching my fav shows. It is very good.
Gracy Gupta, 26