toothsi spark | teeth whitening kit
Inclusive of all taxes
Free Shipping
out of stock
This item will be in stock soon
Experience convenience like never before with toothsi. Let us introduce you to the toothsi spark teeth whitening kit. Now you can get whiter teeth from the comfort of your very home. Order now and get our teeth whitening kit delivered within 7-10 working days. Price is inclusive of all taxes.
product details
About:
It's something you've been praying for for quite some time now. Pardon our sass but it is what it is! It's a professional teeth whitening kit which can help you achieve whiter teeth from the comfort of your couch.

Who is it for?
For the ones who want to have the brightest smiles in every selfie.


What's inside the box?
3 teeth whitening pens
1 UV LED light tray
1 adapter for iPhone, Type-C & USB
User Manual
1 PVC shade card
benefits
Whitener light is equipped with 16 LED lights. More LEDs than any other teeth whitening light.

The light can be powered by your smartphone, laptop, adapter or even your power bank. Don't have the appropriate cable? Worry not, we got your back. Spark whitening kit comes with iPhone and Android charging cable compatible aparters.

The IPX7 waterproof design is made of non latex food grade silicone. Best in industry practices.

1500 MCD Millicandela of light produced causes the teeth whitener gel to react faster during the tooth whitening process.



how to use
Step 1: Apply the whitening pen to your teeth!

Step 2: Put the LED light tray over your teeth.

Step 3: Rinse and Smile!

Step 4: Repeat!

contents, ingredients
3 toothsi spark pens, 1 LED light tray, USB cable, Shade card, User manual
blue led technology
FDA approved gel
IPX7 waterproof
safe & easy
it's easy, safe & comfortable
just apply, wait, rinse and smile. As wide and bright as you can!
want brightest smiles?
so don't wait! get upto 5 shades whiter teeth, from comfort of your home.
need reasons to use spark?
we are easy-to-use, enamel safe and you use us from comfort of your couch!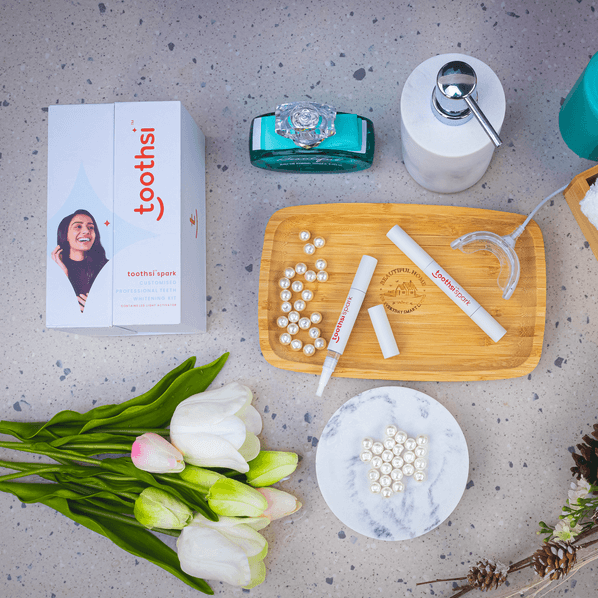 start your smile journey with free 3d scan
Faq
What is toothsi spark teeth whitening kit?
toothsi spark teeth whitening kit gives you brighter, shiner teeth at home. It comes with LED lights and a cold light technology that make the gel react faster during the process. Goodbye yellow stains!
How many toothsi spark pen are included in the teeth whitening kit?
You will find 3 whitening pens in the kit!
Why do I use toothsi spark teeth whitening kit?
"toothsi spark whitening kit helps you get pearly white teeth from the comfort of your home! Yes, that's right! And the best part, it is safe for your tooth enamel and will cause no sensitivity issues. "
What are the ingredients of the gel?
"toothsi whitening gel is FDA, CE, CPSR and RoHs certified. It is made of Carbamide peroxide, Gycerol, Propylene Glycol, Deionized water, Carbomer, Carboxymethyl, Triethanolamine, Polyvinylpyrrolidone and Menthol. In short, we mean, it's absolutely safe! "
What is the shelf life of the gel?
It has a shelf life of 6 months!
Do I need to brush before using the teeth whitening kit?
"Yes! You need to either rinse your mouth with water or brush your teeth to get rid of food particles before you apply the gel. This helps you get the best results. "
How do I get the gel out of the pen?
Give it a nice shake and then twist the base of the pen to get the gel out! As simple as that!
How do I charge/power up the LED tray?
"You have to just connect the USB (comes with the kit) to your laptop or mobile phone to power up the LED tray! "
How long do I keep the tray in mouth?
Not for too long! Just for 10 minutes in the power up mode.
How long do I wait before eating?
Patience is the key. Do not eat, drink or smoke for atleast one hour after each session of teeth whitening process. Trust us, it's worth the wait!
How do I clean the LED tray?
The LED tray is waterproof! You just need to rinse it with plain water and wipe it with tissue paper.
Is the LED tray and gel safe?
Yes, 100%. They both are enamel safe!
How many maximum applications are recommended?
We recommend a maximum of 9 applications, for brighter, whiter teeth.
Will the LED tray heat up during usage?
"No need to worry! The LED tray does not heat up while it's in your mouth. "
After how many applications will I be able to see results?
You will get whiter teeth in the first application. But the shade will vary from person to person.
Is the teeth whitening permanent?
"It's a one-time process! But the results may vary in people, depending on their tooth shade. "
For which type of teeth is the whitening kit not suitable?
It is not suitable for teeth that are severely decayed or discoloured because of medicines.
Will I feel sensitivity after using the kit?
No! But in some cases, people might feel slight tooth sensitivity, which is normal! If the tooth sensitivity is severe or any reactions occur, then we advise our customers to reduce the time usage or discontinue it immediately.
Can the teeth whitening kit be used by pregnant ladies?
"It is advised that pregnant women, mothers who are breast-feeding their babies, and children under 14 years of age should not use the toothsi spark whitening kit. "